VICARIOUS has extensive project management, account management and sponsor activation experience with local, national and global brands.
Cari Sánchez-Potter is a marketing professional, brand builder, content creator and storyteller passionate about forging creative partnerships and crafting shareable brand experiences. She is a trained gastronomist with an entrepreneurial mind who has 10 years of experience in business development, strategic partnerships, event production, media and sponsor relations, multi-channel marketing and project management. Learn more and view her portfolio of work at carisanchezpotter.com.
OUR PROJECTS
OUR COOKBOOKS
We have produced three award-winning cookbooks! Give us a call to discuss how a cookbook can engage customers with your brand.
We partnered with the Cummer Museum of Art and Gardens on The Chef's Canvas, an artful cookbook published in 2016 that pairs Northeast Florida's top chefs, bartenders and brewers with art works from the Museum's collection. The goal of the project was to provide a new, innovative way for Museum patrons to engage with the art works on display, and to unite different facets of Northeast Florida's cultural community. Cari acted as project manager and editor for the cookbook. The Chef's Canvas won gold medals from the Gourmand World Cookbook Awards, Independent Publisher Book Awards and American Advertising Federation.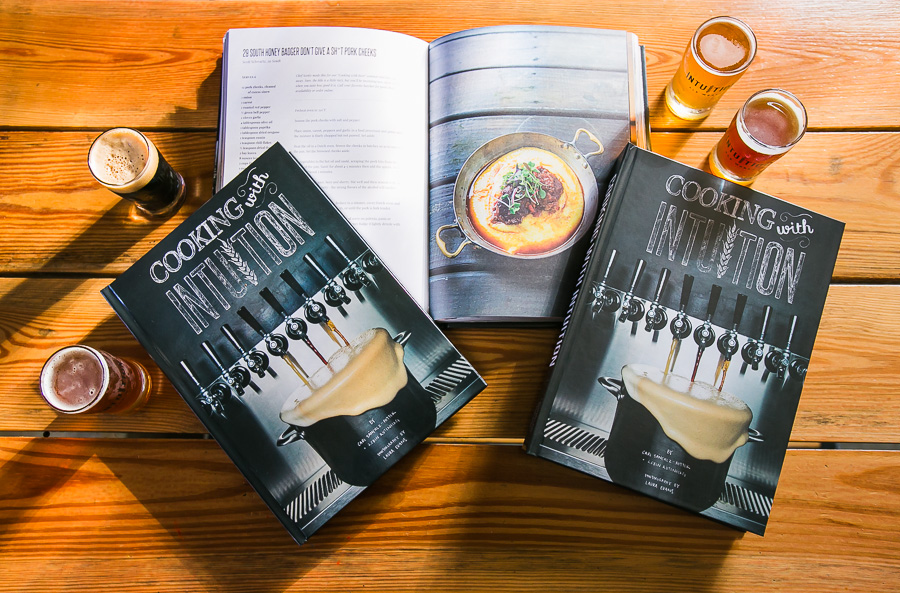 Cooking with Intuition is a multi-award-winning cookbook published by Jacksonville brewery Intuition Ale Works. Cari acted as project manager and co-author, collaborating with over 50 local chefs, food trucks, home cooks and homebrewers to present a coffee table book which VOID Magazine described: "This is a book that will make you say 'Damn, I'm proud to be from Jacksonville.'" Cooking with Intuition received first place and Best in Show awards from Next Generation Indie Book Awards, The National Indie Excellence Book Awards, Independent Publisher Book Awards and the American Advertising Federation.
Cari was the project manager and editor for Calli Marie BAKES, a coffee table-worthy, kitchen-ready cookbook with recipes inspired by coffee shop cuisine released in winter of 2016.